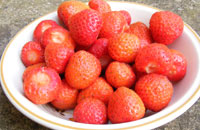 My other sister (who also has two cats), Sharon, dropped by yesterday afternoon with these strawberries which my dad grew on his allotment (definitely no palm oil in those!) We just ate them for breakfast with Mornflake (grr!) branflakes, skimmed milk and a glass of grapefruit juice. It was lovely though the branflakes are a bit plain plus of course I have fallen out with Morning Foods so I don't want to buy from them again.
So, we have on our list to try from Tesco:
Crunchy Bran
Oatibix flakes
Weetaflakes
We also received a very encouraging e-mail from Dorset Cereals
Thank you for getting in touch with us. With regards to your question, unfortunately a very small amount of Palm Oil is used in some of our ingredients, added at source. We are working very closely to try to remove this from everything. We are not quite there yet but well on the way. You will see the changes in the ingredients lists so please keep an eye out. Thank you for raising this with us. It is good to know that our customers are as keen as us to reduce Palm Oil usage.

I guess they have the same problem as Weetabix Ltd - ie the raisins and other vine fruits are sprayed with palm oil to stop them clumping together in transit. But it's great that they're addressing this so we'll also be trying some of their palm oil free cereals as well. They are stocked in the Co-Op round the corner from his client's office where Geoff spends 2-3 days a week so he'll pick some up next time he's there, he's well briefed on scrutinising ingredients lists now so hopefully he'll come back with one that doesn't include any palm oil at all.
When I got back home on Saturday, there was a note from the postman saying something wouldn't fit through my letterbox; I've rescheduled delivery for Tuesday using Royal Mail's on-line service (I find that very handy!) It must be my soaps from Little Satsuma because my package from the Orangutan Foundation just arrived this morning. I have two soaps from the Orangutan Foundation, a nice poster for my studio and also membership details with a magazine to read. I hope I like the soaps and also the shampoo and moisturiser etc. from Little Satsuma as that will be several palm oil products replaced if I do.
I have received a cheque for some of my Red Mist bead jewellery which sold from
my jewellery blog
within two days and so I'm off to make my donation of half the proceeds.