On Saturday, the Cambridge Cheese company had some of the
Poilane French bread
I was telling you about a couple of weeks ago. Here's what half a loaf looks like.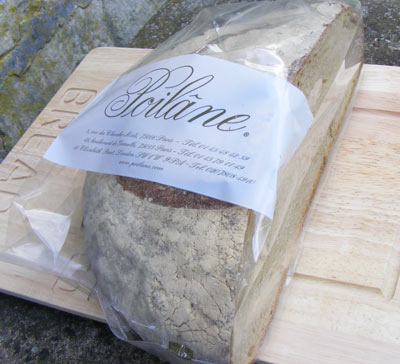 I'm hoping it will last us all week. We had some with our dinner on Saturday and I also enjoyed it yesterday with some liver and port pate (again from the Cambridge Cheese company), very tasty!
Today's lunch will be leftovers from last night's dinner of pasta bake. I'm beginning to realise that on our tea/dinner meals, we're actually already pretty much palm oil free. We eat very few processed/pre-packaged meals. Mostly we cook fresh, but I will shortly start scrutinising the list of ingredients of all the things that we cook with for our evening meals.
I also realised yesterday that there's another option for lunches, I often have a bowl of soup in the winter, don't really feel like eating soup in the summer, especially when it's as hot as it has been recently but there are some great recipes for chilled soups in my New Covent Garden Soup Company's Book of Soups. Chilled soup will be lovely for the summer and means I can use the Poilane loaf to make croutons (I'll just toast it and cut it into squares) so when it's getting dry at the end of the week, I can still eat it. I've had the book several years and a quick check on Amazon shows it's still in print. I'm going to have a go at making ginger and carrot soup with lime first but iced cucumber and yoghurt plus acocado and cucumber are both of my list to try.
I've heard back from Reckitt Benckiser, the makers of E45 cream, who say "Our laboratories have looked at the formulation for E45 Cream and commented that it is unlikely that anything related to palm oil is in the formulation". It's not really an unequivocal statement (which is what I asked for) but as the list of ingredients doesn't contain any of the usual palm oil "suspects", I'm going to believe them.
It's a similar story from Dermal Laboratories who say "We can confirm that palm oil is not one of the ingredients in Dermol Cream (or any of our other products), and to the best of our knowledge none of the ingredients are derived directly from it." Ditto regarding their ingredients list.
I'm waiting for a delivery from Elemis of their shampoo and conditioner, it's a 3-5 day delivery service so it should be here any time.